ďSwingĒ at the Ambassadorís Cup

By CARL STOCKING

Time to tee it up, find some friends and family and let Ďer rip. Make your plans now for the annual American Association Ambassadorís Cup, scheduled for Saturday, May 8, at the Palm Resort Golf Course in nearby Johor, Malaysia. Just a short drive up the highway after crossing the Second Link at Tuas, Palm Resort is a fun yet challenging track winding through the hills of a former palm plantation.

Over 250 golfers teed off in this years Ambassadorís Cup.


Results (click on images for enlargement)

Champion Team

sponsor




Runner Up Team

sponsor




Third Team

sponsor




Fourth Team

sponsor






Group Photos from
2004 Ambassadorís Cup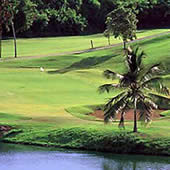 a full photo review of the day is available here.
2004 Ambassadorís Cup
sponsors