PRESS RELEASE

For Immediate Release: Friday, 10th November 2006
Asian Seniors Tour Communications

Thailand's Amphon Maneerat captures first Asian Seniors Tour victory at the 2006 ASM Singapore.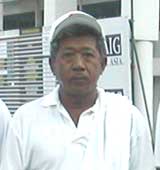 Amphon Maneerat came from two behind on the final day with a tournament equal low round of 69 to capture the 2006 ASM Singapore with a three day total of two under par 214.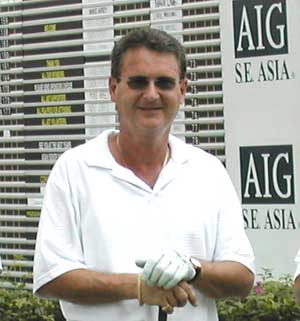 Australia's Kyle Francis, the second round leader, fired a 74 to capture second place alone on 1 over par 217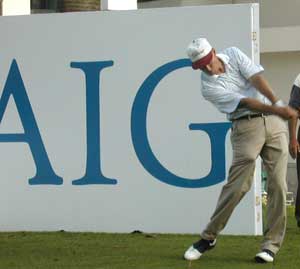 Third place on 218 went to Don Klenk of the United States playing in his first Asian Seniors Tour event.

Amphon says "he is very happy to play in Singapore on such a fine course and win on the tour for the first time." Amphon is hoping for a back to back victory in next weeks US$100,000 ASM Malaysia to be held at the magnificent IOI Palm Garden Resort in Kuala Lumpur.

Rounding out the top ten were;
M Ramayah (Malaysia)in fourth place,
Richard Beer (Australia) in fifth place,
V Nellan (Malaysia) in sixth and thereafter
John Clifford (Australia) tied with fellow countryman Randall Vines (Australia) in joint eighth place
Boonyarit Uasilapasart - (Thailand) alone in ninth and rounding out the top ten was
Bill Evans (Australia) after achieving a great Hole-In-One on the first day.

Singapore's leading professional was home club professional Lim Swe Chew.

In the amateur section Mark Lamb, a scratch marker was the ASM Singapore Overall Amateur Champion and qualifies to play in the ASM Malaysia semi finals along with 15 year old Johnson Poh of Changi Golf Club whom was the overall ASM Singapore Junior Champion.

Both players will face stiffer opposition in Kuala Lumpur where Singapore's leading amateur Choo Tze Huang and Feldman Tan, respectively the 2003 ASM Singapore and 2005 ASM Malaysia defending champions will play alongside the senior professionals in the ASM Semi finals on 17th and 18th November.



The Final Round Leaders Board of the 2006 ASM @ Singapore presented by AIG S.E. Asia

1 - Amphon Maneerat - Thailand - 72 - 73 - 69 = 214
2 - Kyle Francis - Australia - 72 - 71 - 74 = 217
3 - Don Klenk - United States - 74 - 73 - 71 = 218

4 - M Ramayah - Malaysia - 77 - 69 - 73 = 219
5 - Richard Beer - Australia - 76 - 73 - 71 = 220
6 - V Nellan - Malaysia - 74 - 73 - 75 = 222
joint 7 - John Clifford - Australia - 73 - 74 - 78 = 225
joint 7 - Randall Vines - Australia - 76 - 75 - 74 = 225
9 - Boonyarit Uasilapasart - Thailand - 81 - 76 - 70 = 227
10 - Bill Evans - Australia - 77 - 76 - 75 = 228
joint 11 - Richard Ellis - Australia - 73 - 77 - 79 = 229
joint 11 - Lim Swee Chew - Singapore - 78 - 72 - 79 = 229
joint 11 - V Lingam - Singapore - 76 - 76 - 77 = 229
joint 11 - Giuseppe Sita - Italy - 76 - 77 - 76 = 229
joint 11 - Peter Beard- Australia - 82 - 74 - 73 = 229
16 - Sid Denham - England - 75 - 76 - 79 = 230
17 - Pachoen Prempreeda - Thailand - 79 - 76 - 75 = 230
joint 18 - Ali Ratim - Singapore - 75 - 76 - 80 = 231
joint 18 - Bobby Jones - South Africa - 75 - 77 - 79 = 231
joint 18 - David Ng - Singapore - 77 - 77 - 77 = 231
joint 18 - Reid Sheftall MD - United States - 82 - 76 - 73 = 231

For further details please contact;

Evelyn Lee - AST General Manager - evelyn@asm-singapore.com

Tel: +65 6469 9760
Fax: +65 6469 9412